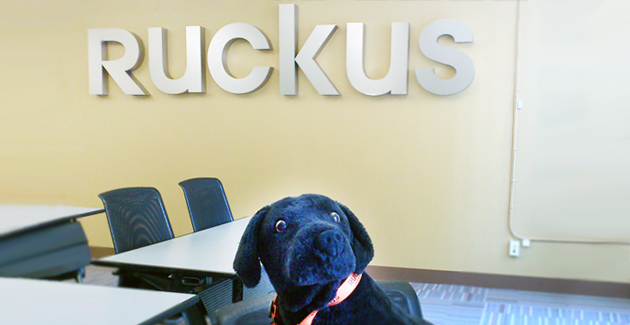 Benefits of Ruckus Certification Training with SLICE
So you think you're a WiSE Guy huh? Attend Ruckus WiSE Certification Boot Camp in New York City and prove it.
The goal of the WiSE Boot Camp is to provide training for wireless networking professionals who wish to obtain top-level Ruckus certification. WiSE certification ensures that individuals have the necessary skills to design, deploy, manage and support robust wireless networks consisting of a range of Ruckus smart Wi-Fi products including ZoneDirector Controllers and ZoneFlex Access Points.
WiSE Certification is a must for all Big Dog and Top Dog partners.
The course is offered bimonthly and consists of 3 days of workshops and labs. An ideal learning experience is created for the attendees, who can directly interact with two WiSE Certified Instructors and have access to Ruckus lab equipment. At the conclusion of training, participants will receive a Premium Code to take the Ruckus Wireless Solutions Engineer (WiSE) certification online exam, valid within 90 days of attending this class.
All trainees who pass with a 90% or higher will receive a $300 voucher to be applied to a future registration. Can not be combined with other discounts.
7 Reasons to Become WiSE Certified with SLICE:
Learn from the best

Classes are run by Ruckus WiSE Certified Instructors with years of experience working with Ruckus equipment in various unique situations. The wealth of knowledge delivered in the student manuals paired with the one-of-a-kind real world stories courtesy of the instructors pack a 1-2 punch of unmatchable Ruckus Wireless expertise.

Hands-on experience with Ruckus equipment

Each student station features a Ruckus ZoneFlex 7300 Series Access Point and a Ruckus ZoneDirector 1100. Student labs are designed to feature activities and problems that mimic real world deployment situations.

Great networking opportunities

Learn alongside a class full of network engineers, systems engineers and other diverse positions from small and large companies all around the nation. Training is conducted in an open environment and trainees are encouraged to interact with other through the duration of the course (WiSE exam to be taken individually).

SLICE hosts an after-hours networking event with free appetizers and drinks on the first day of training. Ruckus Regional Reps and other networking professionals are regularly invited to join as guest speakers and for our networking event for more casual interaction with the trainees.

Convenient location in the city

The training venue is located 5 minutes away from the Port Authority Bus Terminal, Pennsylvania Station, the Lincoln Tunnel and several subway lines, making daily commute a breeze no matter where you're coming from.

Additionally, the training venue is located within walking distance of several reputable hotels.

Modern classroom

Training is delivered in a newly renovated state-of-the-art classroom with A/V setup, Ethernet and power connections at every student's desk. The training room is lit with natural sunlight and has been described by past trainees as "an optimal learning environment".

Referral program

Two heads are better than one. If you registered for training or successfully completed training in previous months, you can refer someone to attend Ruckus WiSE Boot Camp, either in the same month or a different month and receive a $250.00 rebate check (to be used towards training or purchase of Ruckus Wireless equipment from Ruckus Solutions).

Free breakfast and lunch

Full students are productive students. Trainees are served a complimentary hot breakfast and lunch on all three days of training. Fruits and snacks are provided at each student's desk. A free coffee machine is available in the training room and cold beverages are served regularly.

Twelve trainees enter, one trainee wins. Actually everyone wins! But hey, dont take our word for it read the reviews from the previous training bootcamps.
To register or to see more information, visit Ruckus Training sign up page