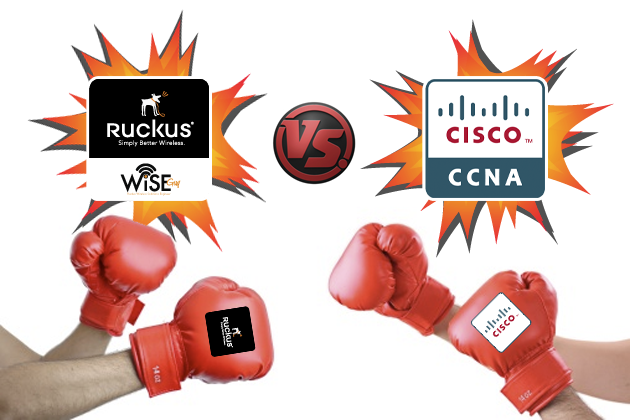 Cisco vs Ruckus Wireless certification comparison
The booming wireless industry and rapid adoption rate of WiFi enabled devices require more IT professionals to support the infrastructure than ever before. To cope with the demand, many network engineers seek to obtain wireless certifications to get an edge on the highly competitive job market.
There are hundreds of IT certifications on the market right now. For smaller categories like wireless certification, there are a many of options to choose from including CCNA Wireless Certification from Cisco and WiSE Certification from Ruckus Wireless. If you are just getting started in the wireless field it may be easier to side with Cisco only because it is a widely represented company, but does it mean that its certification program is the best one? Lets try to find out.
CCNA vs WiSE
The increasing demand of wireless professions requires more IT workers to be qualified with the latest technologies and necessary skills, both CCNA Wireless Certification and WiSE Certification serve this requirement well. They are both designed to ensure that IT workers have the ability to support the wireless needs of SMBs and Enterprises. The major difference is that each of them emphasizes more on the application of their own products during their training. IT workers need to have WiSE Certification to sell and configure Ruckus equipment, the same goes for CCNA Wireless Certification if you want to configure Cisco products.
Certification Prerequisites
Both of these certifications require that the IT worker complete certain prerequisites before attending. However, the requirements from these two companies are quite different. For permission to take the Cisco CCNA Wireless Certification course, the applicant needs to have a valid Cisco CCENT, CCNA Routing and Switching or any CCIE certification that can act as a prerequisite. This means the applicant needs to take other training courses and pass the CCENT qualification exam before they can start CCNA training.
On the other hand, Ruckus Wireless does not require any prerequisite courses. All that the applicant needs to have is a basic understanding of WiFi technology and Ruckus devices. This simple policy saves applicants a lot of time and money on fulfilling the prerequisites. Personally, I think this difference between the prerequisite may reflect the fact that Ruckus devices are easier to operate than Cisco devices.
Training Facilities
For a huge organization like Cisco, it is not surprising to see that Cisco has more training locations around the world. Applicants can take the training courses in 30 countries, including many training locations in the United States.
Ruckus has training partners worldwide. Applicants can take training course and exams in 22 countries around the world. In the United States, Ruckus offers training classes in New York, via official ruckus training training partner, and in Sunnyvale, California at the Ruckus headquarters, covering the East and West coasts of the United States.
Training Duration
The time required to complete these courses is different. While Cisco CCNA training takes the applicants five days to complete, Ruckus WiSE training only requires 3 days in classroom and 2 hours online. Since both certifications enable IT workers to support the wireless needs in SMBs and enterprises, Ruckus WiSE training seems to be more efficient and easier to understand.
The Cost
If you are considering getting a certification, the price must be one of the most important parts to think about. The prices to get these certifications display another big difference between CCNA and WiSE. Ruckus offers training classes consisting of 3 days of hands-on lab exercises starting at $1,995.00.
Cisco's training partners charge about $3,000 for a 5 day CCNA training period and if you have not met their prerequisites, you have to get that first. CCENT training alone will cost you another $3,000, rising the total price to $6,000.
Conclusion
With about 53 percent market share of WLAN arena, Cisco is definitely the networking giant. Gregor Vucajnk, a wireless expert who has experience with many companies including Cisco and Ruckus Wireless, said in his interview with Mirek Burnejko that companies with innovating technologies, like Ruckus, "can take quite a bite of the pie (WLAN market)." Usually, patented and unique technologies are more suitable for professional services. "Wireless certifications like these (Ruckus, Aerohive, etc.) do give you an edge," says Gregor. Gregor also chose Ruckus WiSE certification from all the certifications he had as the most valuable in his career. "With the carrier market booming and with Ruckus owing proprietary technology, this is a very sought after certification." Try Ruckus WiSE for its straightforward prerequisites, efficient training course, economical price, and most importantly, the edge in unique technologies.