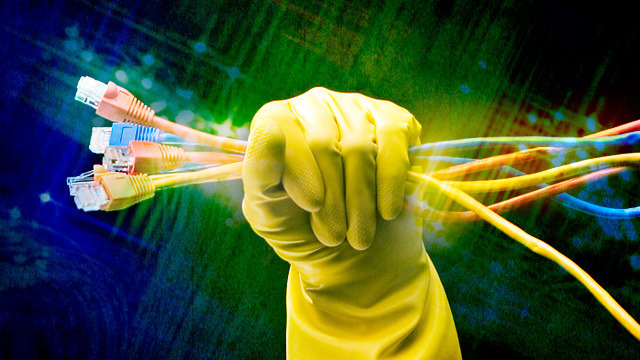 Follow this expert advice on the do's and don'ts of purchasing temporary bandwidth and your next event will be a success!
SLA Bandwidth vs. Non-SLA Bandwidth: The Mysteries Explained
Any event manager knows that an event is the result of countless small but important decisions. Are the floral arrangements too much? Is karaoke a bad idea? When your event revolves around Internet-dependent things like credit card processing, video streaming or in-depth social media campaigns that require temporary bandwidth, you are faced with another decision: SLA or non-SLA? We consulted Mr. Dror Shuchman, President of Natural Wireless, a business class Internet service provider, on the matter. Clean your magnifying glass because we are about to solve this mystery!

SLA Bandwidth

With a service level agreement (SLA) bandwidth package, you get what you pay for, specifically a certain amount of mbps. For Natural Wireless clients, the number of mbps purchased for a single event typically falls between 50/50mbps and 200/200mbps. If at any point during the event the bandwidth dips below what you have purchased, depending on the severity of the dip, you will be partially or even fully reimbursed.

For event managers, purchasing SLA bandwidth is a smart move. According to Shuchman, "an SLA bandwidth package guarantees reliable, low latency WIFI at your event."

Non-SLA Bandwidth

Unlike its doughier cousin, non-SLA bandwidth is not often a hit at parties. Non-SLA bandwidth may be less expensive than SLA bandwidth, but like that Darth Vader alarm clock you bought final sale in your neighbor's front yard, it is non-refundable and there is no guarantee it is going to work.

For this reason, Shuchman does not recommend it for events. He explains, "An event is a short period of time in which to positively represent your brand. Even ten minutes of faulty Internet can easily ruin it." Non-SLA bandwidth is better suited for home use.

Installing Internet & Temporary WIFI at Your Next Event

Though Natural Wireless has set up Internet for clients the night before an event, Shuchman does not recommend event managers procrastinate when it comes to purchasing bandwidth. Natural Wireless technicians test the Internet connection before each event. If the trial run proves the connection defective in anyway, they install a second temporary circuit, free of charge. This thorough process should not be rushed. Shuchman advises event managers to contact Natural Wireless "at least three to five business days, but ideally two weeks" before an event is scheduled to take place to ensure the best outcome.

For optimal delivery at events, Natural Wireless' world-class bandwidth is paired with Slice's turn-key event WIFI solution. Together, the two companies help deliver one of the most basic amenities, as demanded by event attendees: wireless connectivity. Whether your attendees are business owners, power bloggers, or just everyday Joes, EVERYONE is using social media. Maintaining an online presence is a full time task and the need for a consistent connection derives heavily from this. Deploying proper Internet and WIFI could determine an exponential difference in your attendee count, and furthermore, the growth of your product and brand. For more info on setting up event WIFI, check out this video:

{youtube}SkCUHBxDMb4|610|343{/youtube}

Thanks to Mr. Shuchman and Natural Wireless, we have solved the case of the mysterious bandwidth options. Put away your magnifying glass and move on to accomplishing the other tasks on your lengthy event planning checklist.

By: Alannah Dragonetti