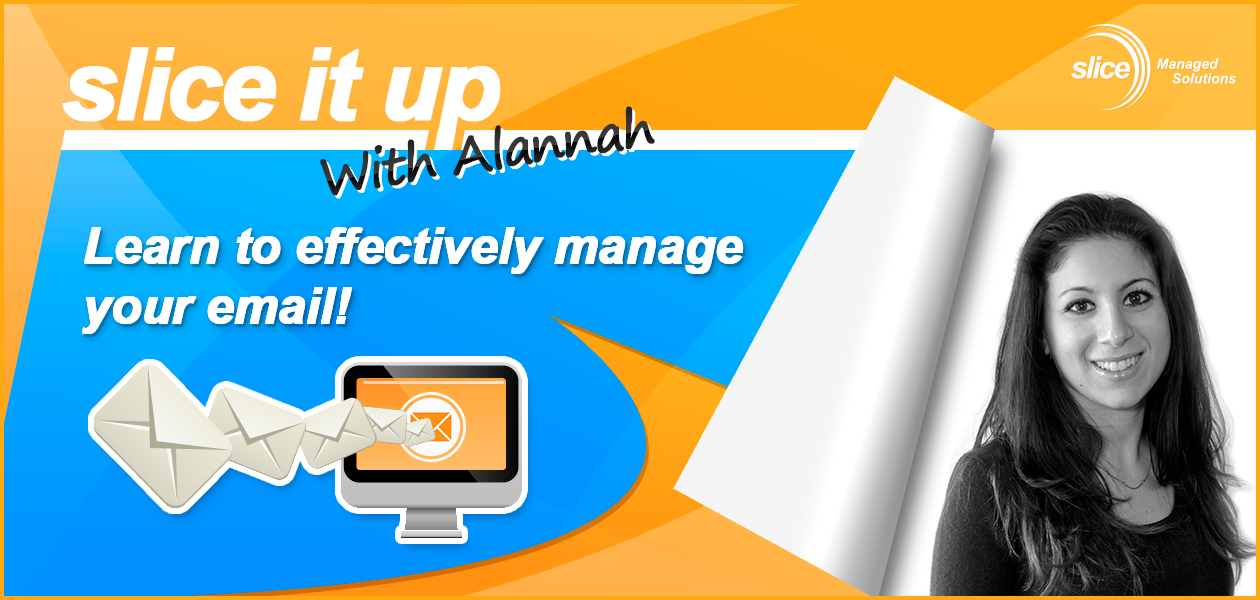 A guide to crafting emails that are as non-threatening as Tom Hanks, but command as much attention as (a 1990s) Meg Ryan.
Much to the postal service's chagrin, you almost certainly have an email account, allowing you to send and receive messages and attachments simply, practically instantly, and often, free of charge. Email seems perfect until you use it. Inboxes overflow, some messages are ignored, and others are misconstrued. What is meant to be a convenience can easily devolve into a hassle. This installment of "SLICE it Up with Alannah" provides email management tips to solve this first world problem.
A SLICE of History
Email, a system for sending messages from one computer to another, was invented by ARPANET contractor, Ray Tomlinson, in 1972. Tomlinson, allegedly sent the all caps message, "QWERTYUIOP."(Rumor has it Tomlinson went on to ghostwrite Kanye West's tweets.) By the mid-1980's, email was widely used by government and military employees, students, and academic professionals, but it was not of much use to the average person prior to the invention of the World Wide Web in 1991. After buying their first personal computer and connecting it to the nascent Internet, one of the first things many people did was create an email account.
By 1998, email had entered the popular lexicon as well as popular culture. That year, "spam" a term for unwanted email, was added to the Oxford English Dictionary and the classic Tom Hanks-Meg Ryan vehicle, You've Got Mail hit theatres. By the early 2000s, it was clear that email had grown from trend to near necessity. Email went mobile with the release of the original BlackBerry smartphone in 2003, a development that many pinpoint as the 9-to-5 workday's kiss of death. Today, people of all ages use email in their personal and professional lives. With everyone from your mom to your clients flooding your inbox, it can be hard to keep up with individual emails as well as the rules for responding to them. Below are tips to prevent your email from becoming an efail!
Tips for Managing Mail as A Pro:
1. Give it Time
To effectively manage your inbox, you must effectively manage your time. Instead of checking your email whenever the mood strikes you, establish a routine. Blogger Tom Kuhlmann has found success by turning off his email notifications and dedicating 30 minutes of his morning to addressing pressing emails and setting 90 minutes aside later in the day to respond to less urgent ones. A ritual like this one will make your days less hectic and more productive. The people you are corresponding with may even notice that you only reply to their emails at certain times and adjust the onslaught of messages accordingly.
2.Cancel Your Subscription
If you do not immediately regret giving your real email address to the cashier at Bath & Bodyworks as she rings up your apricot scented hand sanitizer, you will the next morning when your inbox is stuffed with ads for lotions you already own. You can and should unsubscribe from these types of email lists. Many companies place the "unsubscribe" option in very fine print at the bottom of their emails. If you do not wish to cut junk email out of your life completely (everyone likes a coupon), it is wise to create three separate email accounts: one for shopping, one for keeping in touch with friends and family, and one for work.
3.Know Intention
No one wants to open an email to find a puddle of word vomit. Before you write an email, determine your purpose for doing so. It is likely one of the following:
You would like to relay a quick piece of information or compliment (positive sentiments only! More on this later).Objective: While a "thank you!" would be nice, your email does not require a response.
You have a question.Objective: When crafting this type of email, the goal is to receive a swift response.
You would like to keep the lines of communication with a friend or client open for future purposes. Objective: Your goal is to hear back from the recipient, but not immediately.
You want something from the person you are contacting, whether it be to send you their phone number or to agree to an idea of yours. Objective: You intend to persuade the recipient to perform an action. Once you identify what you want, it is easier to articulate it to others.
4.Behave Yourself
If your objective is to pick a fight, reconsider. Arguing via email is not only cowardly, but risky, as emails serve as a record of your words. It is also a bad venue for testing new comedic material. For example, sarcasm works best in scenarios where people can interpret your facial expression/tone of voice. Keep all online communication straightforward and positive. If you realize your email is questionable after hitting "send," you may not have to order that flower arrangement just yet! Gmail has an "Undo Send" option you can employ by goingto "Settings", then "Labs", and finally, clicking "Enable" beneath "Undo Send." Act fast, because this offer only stands for 30 seconds after sending!
5.Become an Expert on the Subject
Your emails never have a second chance to make a first impression, so make sure your subject lines inspire recipients to open them. If your subject line is blank, you may come across as arrogant, as if your name is reason enough for the recipient to open it. A vague subject line (like "Hi!") is not intriguing and may cause your email to be overlooked. Subject lines should reflect the content and purpose of the email.
Now that you are well-versed in email management and etiquette, your personal and professional life will be much less complicated!