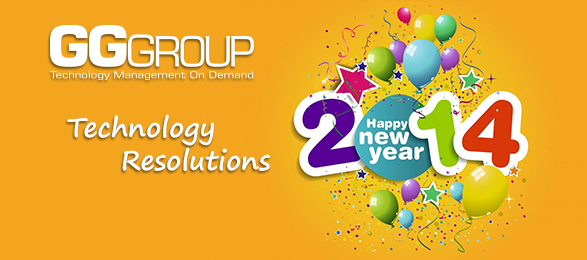 Have you already broken all of your New Year's resolutions? Here are five new ones worth making and sticking with!
When the clock struck midnight on New Year's Eve, you vowed to improve. This was the year you were finally going to lose weight, save money, and watch less reality TV. A few weeks into 2014, you may have discovered the cronut, gone on a shopping spree, and find yourself declaring you're "not here to make friends!" regardless of where you are. Luckily, there are other areas of life to focus on improving, an important one being the IT health of your business.
You've invested a lot of time and energy into making your business what it is today. The continued success of your company relies heavily on the efficiency of its technology. Managed Services Providers (MSPs) understand this and want to help keep your company's technology running at its full potential. From alerting you to vulnerabilities, to backing-up data, MSPs perform many actions crucialto the survival of your business. With all of the different ways MSPs can assist, it is important for Managed Service Clients to cultivate a relationship with their MSP that helps them to understand and meet their business' unique IT needs. Below are five New Year's resolutions every Managed Service Client should make and keep:
1. Make Time to Meet with Your Service Provider
This year, don't let choosing the perfect LinkedIn selfie be the extent of your networking. Regularly meet with your MSP to discuss your vision for the coming months and create a plan to make it a reality.
2. Review Your Business Continuity Plan
When running a business, hope for the best, but prepare for the worst. No business, or department for that matter, is immune to disaster. Some sobering statistics:
According to FEMA, the typical natural disaster claims almost 40% of small businesses in the affected area.
Two out of five companies that suffer a disaster will go out of business in five years.
Seven in ten small businesses close within a year of a severe data loss.
Review your business continuity plan to ensure your business is fully equipped to bounce back should disaster strike.
3. Create a Desktop Strategy
Be aware of the latest advancements in technology. For instance, did you know that beginning on April 8, 2014, Microsoft will no longer support Windows XP? If your company uses PCs, it is wise to have your MSP upgrade them to Windows 8.1 as soon as possible. Check out Slice's XP upgrade offer.
4. Begin to Explore BYOD Options
That hairstyle may have been a bad idea, but that doesn't mean you should avoid every trend. One business trend worth considering is Bring Your Own Device (BYOD). BYOD has become a popular business practice and the trend's growth shows no signs of slowing down. Satisfaction rates are high; in fact forty-nine percent of U.S. IT managers "strongly agree that BYOD improves worker productivity."
5. Consider Managed Wi-Fi
Another business practice worth exploring is managed Wi-Fi. Some benefits of employing managed Wi-Fi include:
Controlled internet environments
Gaining indirect revenue via advertising
Being paid for Wi-Fi use based on the relationship with the end user
Transparent management
There you have it, Managed Service Clients; five fresh, unbroken New Year's resolutions that can greatly benefit your business if you stick with them!