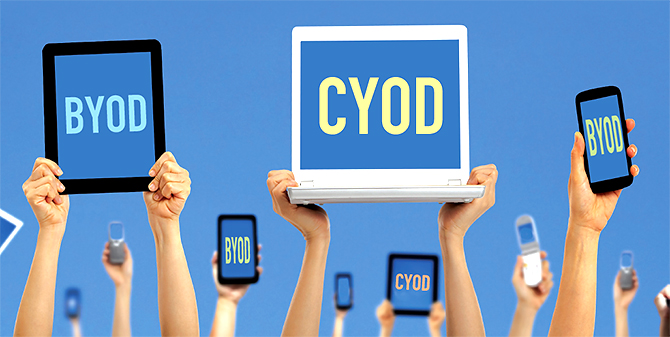 We all know that more money leads to more problems, but could less choices lead to less problems? We weigh the pros and cons of CYOD.
CYOD: Less Choices, Less Problems?
The New Rules
SLICE would like you to participate in an experiment: leave your cell phone at home for one day and count the number of times you are tempted to reach for it. We hypothesize that the number will be high, for the average person has come to rely on their mobile phone and other devices for everything from entertainment on a long commute to a respite from an awkward lull in a face-to-face conversation. Many of us even rely on our devices to help us perform our jobs.
Businesses have taken notice. The last few years have seen a rise in companies instituting Bring Your Own Device (BYOD) policies. A concept we urged you to explore early this year, a BYOD program allows employees to use a personally selected and purchased smartphone, tablet, or PC to execute tasks and access company data.
Just a few months later, a new business trend is emerging. Business owners, especially in Europe, are increasingly turning to Choose Your Own Device, or CYOD, policies. An offshoot of BYOD, CYOD refers to an organization permitting employees to pick from a list of specified devices for business usage.
Are you thinking of instituting one of these policies at your company? Allow SLICE to help you decide! We have measured how well BYOD and CYOD satisfy the following criteria:
1. Security
· Data breaches and damaged equipment are setbacks that most businesses never recover from. Therefore, the security of your organization's data and equipment is one of, if not the most important factor to consider before introducing a change in company policy.
2. Cost
· Managing a company can be expensive. A new program is not usually worth creating unless it yields a significant return on investment (ROI).
3. Employee Satisfaction
· Your company's implementation of a BYOD or CYOD policy effects both the professional and personal lives of its employees. If employees see an all-encompassing program as having more negative aspects than positive ones, it could lead to problems as serious as your organization struggling to retain current employees and even to attract new ones.
4. IT Department Satisfaction
· Last but not least, it is critical that you consider members of your business' IT department's opinions before executing a BYOD or CYOD plan. They are in the Information Technology field for a reason! Besides, members of the IT department will be largely, if not fully, responsible for enforcing the new policy.
BYOD
· Security: Before beginning a BYOD program, it is crucial to have strict, clearly defined guidelines in place to protect company data. For instance, employees' devices should have to meet minimum security requirements before they can connect to company information and network resources. Keep in mind that if your business falls under compliance mandates such as PCI, DSS, HIPAA, or GLBA, rules related to safeguarding certain information apply even if said information is on an employee's personal device. In the event that an employee loses their device, most organizations that employ BYOD wisely retain the right to wipe all data from it. For more ways to ensure company data is secure under a BYOD policy, watch SLICE's 60 second video tutorial.
· Cost: When employees bring their own device, they are responsible for covering most, if not all of the costs of hardware, voice or data services, and related expenses, which can save your company as much as $80 per month per user. Alas, the financial benefits of adopting a BYOD policy are short-lived. At last year's International Data Corporation (IDC)'s event, Asia-Pacific Predictions for 2014, panelist, Charles Anderson, the corporation's head of telecoms and mobility, foresaw BYOD waning in popularity, citing the BYOD model's lack of ROI. Anderson shared that one of his clients in Singapore launched a BYOD initiative only to watch its network bandwidth double in the following month. He attributes this rise in bandwidth to "people…basically watching YouTube videos all day long." Add taking advantage of a BYOD policy to the list of employees' bad work habits!
· Employee Satisfaction: Whereas many employees enjoy the virtually limitless device options a BYOD plan brings and feel that it justifies the cost, some may feel that the strict rules that define an effective BYOD policy infringe upon their personal lives.
· IT Department Satisfaction: Plainly stated, BYOD creates problems for the IT department. Adopting a BYOD policy may place unfair pressure on IT personnel to be experts on all available devices and operating systems. Furthermore, IT professionals may find it awkward to dictate how employees use their personal gadgets.
CYOD
· Security: United Kingdom-based business technology publication, Computing's, 2013 IT Leaders' Forum featured a popular panel comparing BYOD to CYOD. Panelist, Phil Durbin, head of corporate systems at the Salvation Army, praised the latter for giving greater jurisdiction to employers, remarking, "with CYOD, [devices] are corporately owned…That is a great place to be because [employers] are keeping control of the device. You, the employer, have the right to do as much with the device as you like because it is your device and you are just giving special dispensation to the employee to use it for their personal use." Shrewd employers use the control CYOD grants them to tighten data security. With the IT department's blessing, they select devices manufactured by top brands that run modern operating system versions to lower the risk of hackers exploiting vulnerabilities to access information.
· Cost: CYOD is the more expensive choice. Under this type of program, the organization covers the cost of devices and software.
· Employee Satisfaction: Even if they do not prefer the CYOD model, most employees understand why business owners would want to limit their device options. They may even find it motivating! You see, some companies design CYOD programs so that employees are allowed to choose devices and become eligible for upgrades based on rank, a tactic that may serve as incentive for employees to improve their job performance.
· IT Department Satisfaction: A CYOD policy allows the IT department to mandate that employees use only the technology its members know and trust, making IT workers' jobs a lot less stressful. It is also worth noting that IT personnel generally find it easier to enforce usage rules when employees see that they have been given more power from the start.
To review, BYOD is a good option if you seek a short-term way to save money. However, it is not your safest choice and while your employees may be happy, members of your IT department may not be. Whereas CYOD is more secure and usually preferred by IT professionals, this model cannot work without a decent budget and an understanding staff. Ultimately, the right decision for your business is the one that suits the unique culture and personalities that characterize it.