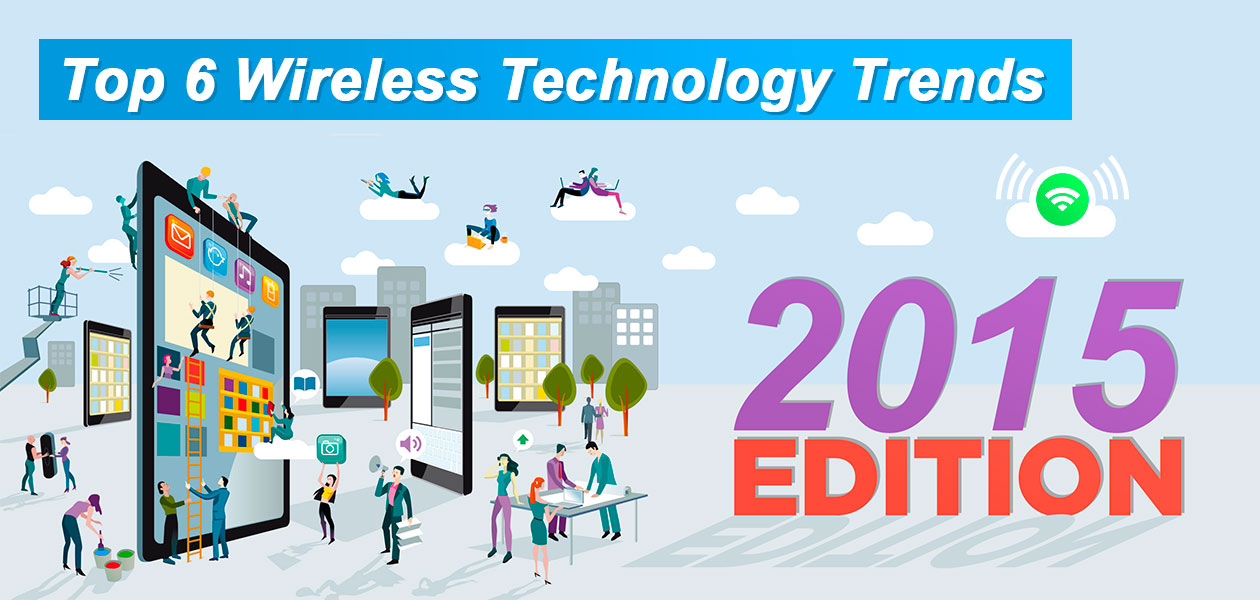 Are you stuck in "The Wired Age?"
In today's technology driven age, the global demand for WiFi continues to rapidly increase. With WiFi steadily becoming the preferred method of connecting to the internet among U.S. consumers, the need for a quality wireless network has never been greater.
When it comes to operating a business, a lack of accessible and reliable WiFi can significantly hinder your business' ability to succeed. A competent WiFi network not only can help streamline your current business operations, but can also keep your customers content and coming back for more.
Here are the top 6 wireless technology trends and statistics of 2015:
This is the age of the smartphone - With more smartphones sold daily than people being born, it's safe to say that these handheld devices play an important role in today's society. Because 90% of all smartphones are equipped with WiFi capabilities, an accessible WiFi connection is essential to a successful operating business, especially nowadays where mobile internet usage has overtaken desktop internet usage. We live in a world where time is money and as a business owner you can't afford any downtime. Having secure instant access to business accounts, finances, and emails, amongst countless other applications and perks has made smartphone usage relevant even amongst world leaders such as Barack Obama and French president, François Hollande.
...and its WiFi powered relatives - The realm of easily portable technology is rapidly expanding and now includes devices just as addicting as smartphones, such as e-readers, smart-watches, and tablets. To access the internet, 86% of tablets require a WiFi connection, making the presence of a stable wireless network even more essential to managing your business on the go. Most modern wireless devices can be equipped with applications. Practically limitless in number, these "apps" can be created to serve almost any purpose. With a stable WiFi network customers can connect to your virtual shopping center application, creating revenue for your business without a physical store front or you can host a virtual workplace for your employees working away from the office. Through these WiFi devices and applications such as Twitter and Facebook, marketing your company can be done at the touch of a button from any location with a WiFi network.
Consumers select WiFi over Cellular - According to Deloitte, over half of U.S. consumers choose WiFi over cellular. Because WiFi can save hundreds of dollars on monthly cell phone bills, a whopping 71% of mobile users conduct all mobile communications over a wireless network. As more consumers ditch cellular in favor of WiFi, the necessity for more hotspots becomes greater.
WiFi makes customers happy - It has been shown that comfortable and confident consumers spend more money. So how do you make your customers more comfortable and confident? Offer accessible WiFi. According to Accenture, "50% of consumers feel comfortable making a large purchase in-store if WiFi access is available." The environment and experience of a customer can be just as important as the product being purchased. Providing your customers with wireless access will enhance their overall retail experience, increasing the likelihood of a profitable sale.
WiFi is no longer an amenity, but a necessity - Nowadays, a pool is no longer considered the most important hotel amenity. In fact 94% of people stated that WiFi is the most desired quality when searching for a hotel. Even more so, 38% of hotel guests state they wouldn't even consider a hotel without wireless access. Failing to provide your patrons with WiFi could be a costly error, causing you to lose a large percentage of potential customers.
WiFi is quickly becoming a way of life - In a recent poll on the "Top 20 Bare Necessities of Life", Internet Access topped the list, even beating out chocolate, a glass of wine, and the occasional "I love you." In 2014, 2.9 billion people connected to the internet. That's more than two-thirds of the world's entire population. This WiFi craze shows no signs of stopping, by 2020, scientists forecast that 24 billion devices will be linked to the internet with the majority of them utilizing some form of wireless tech for access.
From these impressive wireless technology statistics, it's clear that we're heading towards a wireless society. If your potential or current business isn't properly equipped with quality WiFi, it's time to Slice It Up. SLICE Managed Solutions has both the tools and experience to provide you with the proper WiFi Solutions to take your business to a whole other level. Learn more about how SLICE Managed Solutions can assist you in growing and developing your business by contacting us today!
If you liked this post you may also like: Supporting wireless infrastructure as devices proliferate.