Need WiFi and Internet at your Next Event? No Problem.
Slice's Event Internet and WiFi Services are designed to deliver high speed, reliable and professional wireless internet connectivity services, wherever your event is being held. Whether indoors or outdoors, our services are meant to deliver a consistent, stable wireless internet connection in areas where 3G and 4G coverage can be untrustworthy at best.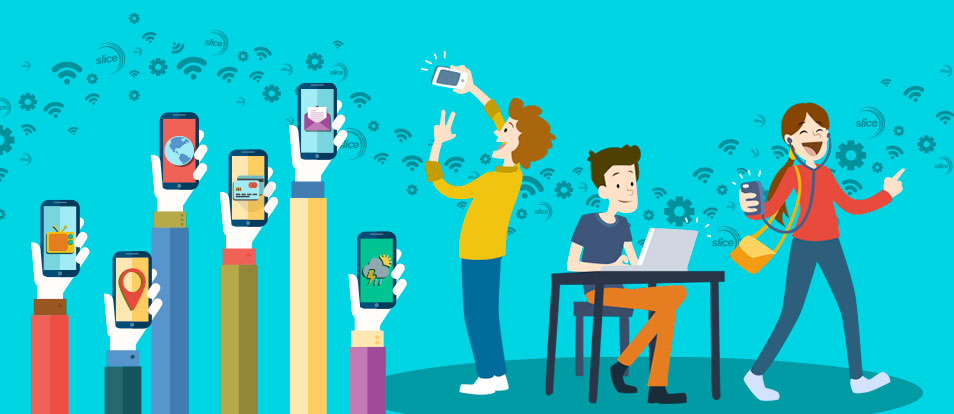 WiFi is often overlooked when it comes to setting up and planning events. Events that may rely heavily on wireless network access for their guests and exhibitors often aren't budgeted, planned or setup correctly... a major bummer for the event planning team and everyone else involved. A solid network starts with Slice. We are recognized city-wide as a leading provider of event WiFi services for conferences, trade shows, large outdoor spaces and gatherings of all sizes. Whether your venue is at a well-known event space or in a tent in the middle of an island, Slice can guarantee a fully functional guest WiFi network and leave you with one less issue to worry about.
Affordable WiFi and Internet For Every Type of Event
Every event WiFi network is unique in its own way. From varying user counts to dedicated bandwidth amounts, all event WiFi networks require distinctive customization to guarantee connectivity issues don't come up and mission critical items are delivered successfully.

While a flawlessly executed event is essentially priceless, successful event WiFi and internet can come with a fee. Fortunately, it's not as bad as you may think. Our event WiFi solutions are extremely malleable and are made to fit every event's unique needs.

To learn about pricing on temporary event WiFi and how we can help make your next event a success, call one of our wireless business development experts today.
Consistent Connections. Professional Support. We have Event WiFi down to a science.
Deploying WiFi for events can be notoriously difficult to manage, but not with Slice. Our event WiFi services are turn-key and cover all aspects of temporary enterprise level wireless installations.

Some key benefits of using SLICE for your next event:
Tiered Access – Deliver internet access to different tiers of users and have full control over the internet experience for each.
On-Site Technical Support – We offer several levels of on-site support, ranging from top-level network engineers to on-site helpdesk.
Remote Support – We're always keeping an eye on your network from our Midtown headquarters. If notice any lapse in service, we can typically be at your event location within 30 minutes
Enterprise Level Equipment – We only use the best of the best. Our equipment is meant for densely populated environments and can support several thousand concurrent connections with ease.
Full Customization – The Slice Gateway allows you to fully customize your event wired and wireless network, giving you the ability to create a different experience for every level of user on your network.
Content & Packet Filtering – Filter out undesirable sites and applications in order to maintain integrity on your event wired and wireless network.
Client Isolation – Prevent users from accessing the devices of others by isolating every device in its own unique VLAN.
Marketing Over WiFi – The Slice Gateway enables a collection of marketing over WiFi capabilities including:

Branded splash pages
Advertisement overlays
Media injection
Hosted media
Static overlays
Social media API integration

Usage Reports & Data Collection – The Slice Gateway can produce hundreds of network usage and individual user reports, during and after the event.
High Density. Low Cost. Event WiFi Without All The Headaches.
Wireless internet makes your event more exciting for guests, sponsors and your staff. Besides just being present, your event attendees want to engage with your brand. Whether they are streaming video, checking emails, posting comments to Facebook, or sharing photos of your event on Instagram and Twitter, their activities rely on a dependable, high performance wireless network.

The demand for consistent wireless connectivity is real but often times, event venues are not set up to support networks which require hundreds or thousands of simultaneous connections. Regardless of whether the event venue lacks the hardware, bandwidth, technical know-how or wireless capabilities altogether, Slice Managed Solutions and our patented event kit can create an enterprise grade wireless network in a just a few hours.
Enterprise grade 802.11n access points capable of supporting over 100 simultaneous connections each. 802.11ac access points available.
Scalable to support thousands of concurrent connections.
Dual band access points, using both 2.4 and 5GHz spectrum.
Directional antenna technology, improves signal strength and coverage.
PoE and Mesh capable – reduce visible wires. Aesthetics is key.
Custom SSID, splash pages and marketing over WiFi capabilities.
Multiple mounting options.
The real benefit is working with a company known as the best at what it does. Slice Managed Solutions has seen it all. Whether indoors, outdoors, events with hundreds and even thousands of users, we have the talent and tools required to build and support wired and wireless networks of all types and sizes.
Build A Wireless Network That Works For You.
As a leading event wireless internet provider in the metropolitan area, we understand the issues facing event managers when setting up WiFi for events. Having seen it all, our approach to temporary wireless internet deployments aims to covers all required facets. Check out all the services we can provide
Network Consulting Services
Your event venue might already have internet or WiFi, and that's awesome, but does it have the right internet or WiFi to meet your needs? If WiFi is critical at your event and it fails, attendees won't think twice before letting their discontent out on through social media and beyond. We can help you assess your venue's network infrastructure to see if it meets your needs
Bandwidth Sourcing
Do you need more bandwidth than what your venue can provide? We have established relationships with many leading internet service providers and can help you procure the necessary amount without charging you an arm and a leg.
Wired and Wireless Network Design and Deployment
This is what we do best. We'll design and deploy your network to meet your unique needs, regardless of the event venue. Indoor or outdoor venues are not a problem; we can set up wireless mesh networks that won't require any wired connections besides power. We set up Ethernet drops, VLANs, firewalls, switches and can even separate bandwidth sources based on event requirements (i.e. connection with SLA to be used for registration and merchant terminals, non-SLA connections for admin use).
On-Site Support and Reporting
Need peace of mind during your event? We can provide on-site support to guarantee that nothing will go wrong with the wireless network. To add to that, we can provide live reporting during the event to show you how many devices are connected, types of devices that are connected, the most popular areas for connection within the venue and more.
Branding and Marketing
WiFi is not just a technology game anymore; marketing has infiltrated the wireless internet world. Branding over WiFi creates a great opportunity to reach your end-users using an untapped channel. Exposure is guaranteed and providing targeted content to users who are at a specific location by choice will only lead to positive turnaround. Custom portals can be setup to feature branded promotional materials, data capture fields and media available for download exclusively over the event WiFi network.
Great Event WiFi Starts With Wireless Education.
Wondering what SLA bandwidth is? Or why access points need to be mounted to the ceiling? If there's one thing event venue managers and event production specialists have in common, it's their need for continued education about internet and WiFi. Slice is here to help! Check out our educational videos and blog posts to learn some of the tricks to the trade.
Slice has provided WiFi for several leading event venues and production agencies in New York City. Our track record of success has even permeated the national spotlight with successful events in Chicago, Los Angeles and Las Vegas. Slice is the go-to company for temporary event WiFi deployment. Don't wait until the last minute! Learn how Slice can make your next event a success by calling our solutions line today.